WE ALL UNDERSTAND why so many normal, rational New Yorkers can act like NIMBYs—because we've all seen alien, intrusive development in New York like Billionaire Row and Atlantic Yards. Recent developments at the American Museum of Natural History brought this to mind, because multiple neighborhood groups are opposing the latest building proposal from the venerable, much-loved institution.
I commented on the situation in a discussion with a group called New Yorkers for a Human Scaled City (a good idea if ever there was one—if you wonder what that means, they will soon be showing the film The Human City on Thursday, May 26). One of my points in the discussion was that good urban design can sometimes be in conflict with preservation and conservation. After all every street and block in New York City (and London, and Paris, and Rome, for that matter) replaced open space and beautiful trees. When we built Grand Central and the Dakota, New Yorkers felt they were part of a city getting better and better. A problem now, as I mentioned, is that these days we think that what we're losing is better than what we're getting, with good reason. But there are principles of urban design, building design, and placemaking that we should look at when we discuss what to do in our cities. The current emphasis on "innovation" and bling has left many of use cold, but if we live here we are probably also city lovers. And cities are made by us. The "property rights conundrum" mentioned below is a red herring if what the museum does is also what is best for the city and its citizens.
Here's my opening comment in discussion below. Scroll down if you would like to read more:
"There's no question that the four teams of architects who worked on the museum (in order—Calvert Vaux and Jacob Wrey Mould, Cady, Berg & See, Trowbridge & Livingston, and John Russell Pope—all good architects) would want the building completed as a solid rectangular mass, with the northern and western sides making continuous street-walls similar to the southern and eastern sides. That is what each showed in their respective master plans, and that follows traditional principles of architecture and urban design that have been increasingly ignored by the museum in the work it has done on the building since World War II. Looking at the complex from Columbus Avenue now, it resembles a person with their pants pulled down, exposing their backside.[see first photo in this article]"
You can also read the article at TribecaTrust.org.
A Wrinkle in the Debate over Theodore Roosevelt Park
As the battle to save the Theodore Roosevelt Park wages on, I'd like to take a minute to present a third, as yet unmentioned take on the matter. With sincerest desire to not torture the park advocates – who may have a legitimate case about the seizure of park land – I'd like to present a third point of view. As with every situation, there is always more than one side to a story.
Recently, there has been an on-line discussion between John Massengale*, Jeremy Woodoff** and Lynn Ellsworth*** debating the merits of a return to the original Master Plan of the museum site versus the preservation of the current park space. Ms. Ellsworth defended the notion that park space is public land, a public asset, and said that ad-hoc seizure of it by any institution is problematic. Mr. Massengale and Mr. Woodoff pushed back with an as-yet-untalked about idea, namely, that it would be better to complete the original Master Plan. Hmmm.
Here is a photo of the existing conditions. You can see that it looks very much "unfinished" with awkward infill in what were originally courtyards.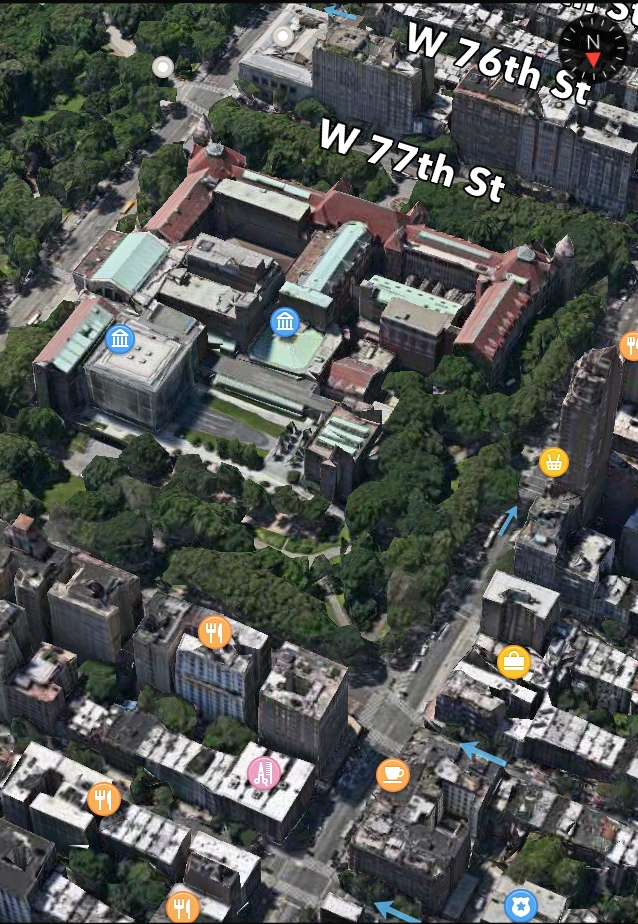 Remember that the land at what was called Manhattan Square was purchased by the city and management of the property was given over to the Department of Parks in 1869 to build as they saw fit. The city owned the land & buildings, and the museum owned the collections housed within. This represents a deeply intriguing property rights conundrum: much of the eventual outcome may actually hinge on how to interpret those rights.
Currently, the museum is trying to expand and occupy the green space in ways that are not even remotely congruent with the original plans of the museum or the current fabric of the neighborhood. Multiple neighborhood groups are making their voices heard in regards to the new development plans at the museum and the potential loss of park space surrounding the existing building. Here is a photo of the proposed expansion.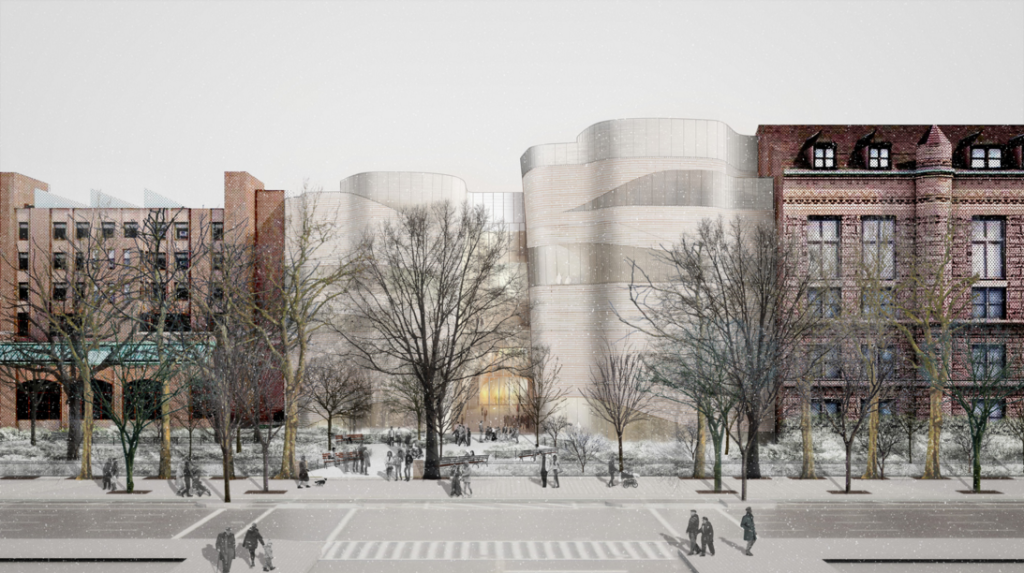 Click here (and then scroll down) to see an aerial view of what the proposed extension will look like from on high.
Now let's look at the twist to this discussion offered by Massengale and Woodoff. They ask, what would it mean to have a completed Master Plan, and what does that look like? Here is Calvert Vaux and Jacob Wrey Mould's original plan as it appeared in American Architect and Building News, Aug. 12, 1876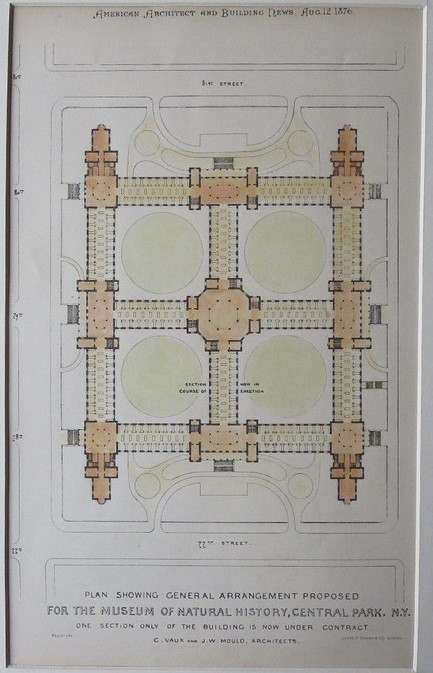 And here is a perspective view of the building, from one of the Moses King books, as it would have looked completed with Josiah Cleveland Cady's Romanesque Revival style (Cady was one of the second team of architects to work on the building).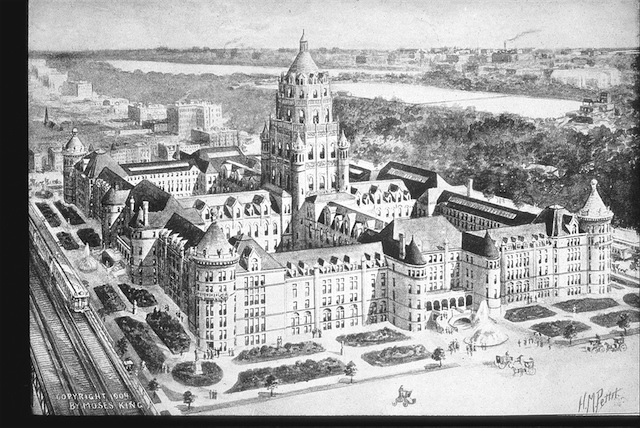 And here is John Massengale's photoshopped aerial rendering of the completed Master Plan in today's landscape.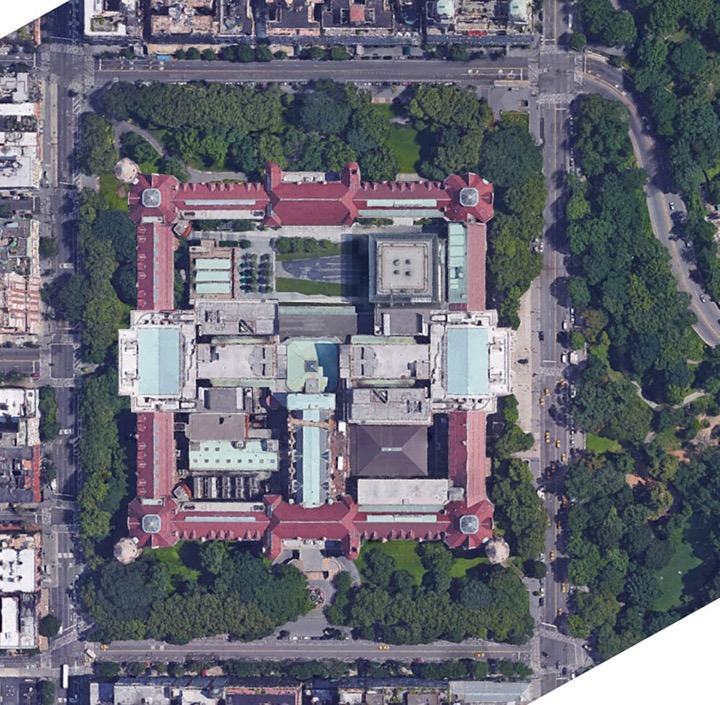 Mr. Massengale argues that,
"There's no question that the four teams of architects who worked on the museum (in order—Calvert Vaux and Jacob Wrey Mould, Cady, Berg & See, Trowbridge & Livingston, and John Russell Pope—all good architects) would want the building completed as a solid rectangular mass, with the northern and western sides making continuous street-walls similar to the southern and eastern sides. That is what each showed in their respective master plans, and that follows traditional principles of architecture and urban design that have been increasingly ignored by the museum in the work it has done on the building since World War II. Looking at the complex from Columbus Avenue now, it resembles a person with their pants pulled down, exposing their backside.[see first photo in this article]"
and in a follow-up email Mr. Massengale added: Continue reading →